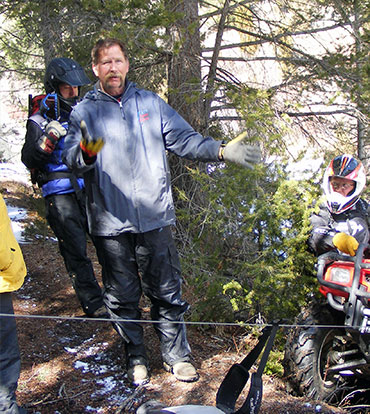 If it has an engine, Randy has probably ridden it or owns it. Randy is our primary ATV/Motorcycle Safety Instructor and he, along with Benny Finnicum, have helped hundreds of The Peak's clients to become safer, more proficient ATV/UTV, motorcycle, and snowmobile riders.
Randy is the Service Manager for the local Polaris, Honda, and KTM dealer, Redline Sports, in Butte, MT. He has over 25 years of experience in power sport industry and a factory certified technician for Honda, Polaris, Yamaha, and Skidoo.
He is the owner of ATV Safety of Butte and has been an ATV Safety Instructor for the ATV Safety Institute since 1993 and a Basic and Advanced Field Dirt Bike Instructor since 1996. Also in 1996, he became a Montana Snowmobile Safety Instructor. His students number in the thousands and come from all age groups. In addition to the general public, Randy provides instruction to members of the US Forest Service, Bureau of Land Management, and numerous large ranching operations. Randy has been one of our primary instructors from the beginning and has helped improve the mobility programs of numerous military special operations units.
Back to