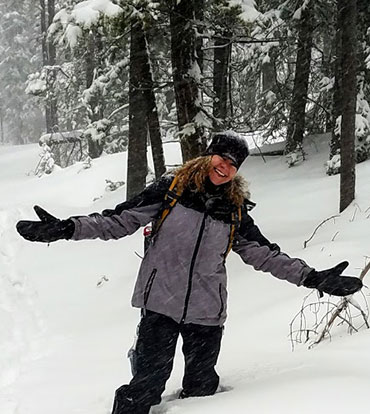 Penny Jones joined the Peak in June 2015. She and her husband Mike moved to Butte from Boise, Idaho. The move to Butte was primarily to be closer to all that Montana, and Butte, in particular, had to offer: fishing, hunting, hiking, backpacking, and camping.
Penny graduated from Boise State University with a bachelor's degree in Social Sciences and served six years in the Army Reserves. She also has over 30 years working in Human Resources, Administration, and Marketing in the private sector.
A lover of adventure and the outdoors, Penny likes to challenge herself physically and especially loves rock climbing, biking, skiing and hiking which makes her job at The Peak the ultimate "dream job"! She loves to travel, especially if she can "wing it". She has traveled to Europe, Mexico, Guatemala, backpacked in South America and spent six weeks walking 500 miles across northern Spain and 3 weeks backpacking through Portugal; she's always looking forward to the next adventure.
Back to