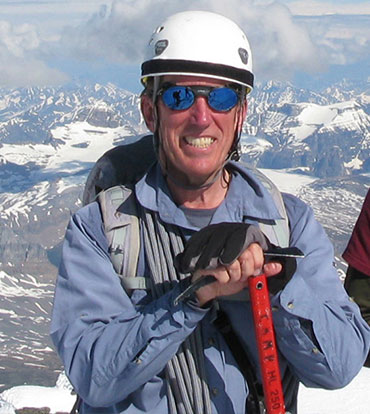 Gordon Irwin has acquired over 35 years of experience in the mountains related to climbing, ski mountaineering, search, rescue and the challenges related to each of these risk potential situations. Much of this time, he was based in Banff as a leader, then manager of Canada's elite mountain rescue service within Parks Canada's National Park Warden Service. This group is the national representative to ICAR (International Commission for Alpine Rescue), as well as the organization responsible for introducing helicopter sling rescue (HEC/short-haul) to Canada and North America. At retirement, he was senior examiner for certifying mountain rescue pilots. He is author of the Technical Rescue manual for Parks Canada, and oversaw the development of the Helicopter Rescue Manual as well as the Explosives Manual for avalanche control work.
In addition to countless alpine rescues in the mountainous National Parks of Canada, Gord has led rescues, rescue training, and accident investigation teams in all regions of Canada, including the St. Elias range in the Yukon, the Torngat Mountains of Labrador, and the granite peaks of the High Arctic islands. As part of international mutual aid agreements, this work has extended into areas of the United States.
His training as a peace officer (National Park Warden) at both RCMP Depot and the Canadian Police College, combined with years of working on teams within a large organization, have developed abilities for instructing, mentoring, risk assessment and problem solving. Training included peace officer, instructor, lead investigator and defensive techniques instructor.
As a mountaineer and internationally certified mountain guide, he has been on numerous climbing and ski mountaineering expeditions throughout North and South America, as well as Europe, New Zealand, and Asia.
Since retiring from Parks Canada, Gord has continued to work as a mountain guide, SAR instructor, incident investigator and avalanche specialist. His work includes all aspects of guiding including heli-skiing and cat-skiing. Most recently, he has been developing specialized mountain training programs for the military and police across Canada.
Certifications
Manager (retired), Parks Canada Warden Service: Mountain Safety Programs
BSc. (Specialized) Physical Geography (glaciology and geomorphology)
ACMG/UIAGM Internationally Certified Mountain Guide
Canadian Avalanche Assoc. level 2, professional member
Licensed blaster, Alberta and British Columbia
PERS (Parks Emergency Responder) advanced wilderness first-aid
Back to