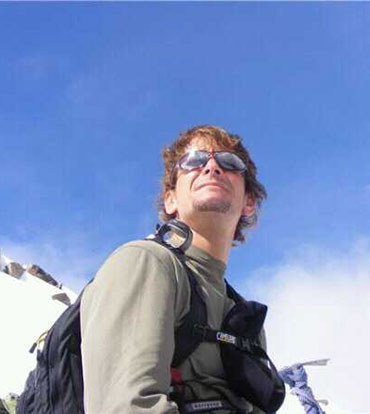 Gene has been the Peak's primary Rock and Ice Climbing Instructor from the beginning. He is an avid climber that lives and breathes to get "on the rock". For the past six years, Gene has helped develop and refine the climbing and mountaineering skills of hundreds of Special Operations professionals. It doesn't matter if it is a total blizzard or 100°, Gene's infectious enthusiasm, patience, and total dedication to the student are the frequent subject of student comments.
Gene is a native of Butte, Montana and has spent most of his life recreating in the mountains of Southwest Montana. He started rock and ice climbing over 19 years ago and continues to advance his knowledge of the sport. He has logged hundreds of climbs in the 5.11-5.12 range including Devil's Tower, Badlands, Cougar Canyon, Zion, Bryce, Snow Canyon, and Half Dome in Yosemite National Park.
During the winter months, he spends a considerable amount of time, and is considered an expert on, ice climbing in Hyalite Canyon near Bozeman Montana. Hyalite Canyon is noted for having the largest number of natural routes in the lower 48. Gene has climbed most of the approximately 140 routes including White Fang (WI 6-7). He also conducted the first ascent of the "Silver Cord" (Yellowstone Falls) in Yellowstone National Park.
Gene's other passion is mountaineering. He has spent a considerable amount of time in the Cascades, summited nine of the "Eleveners" in Utah, the North face of the Grand Teton, Middle Grand, and Exum Ridge. He has also climbed Mount Shasta, Granite Peak, and hundreds of summits in the Highlands South of Butte.
In addition to his duties as one of our primary climbing and mountaineering instructors, Gene also conducts Red Cross and ECSI Wilderness First Aid, CPR, and First Aid courses for The Peak.
Back to