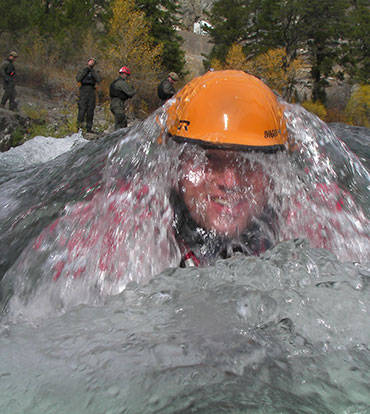 Carl is an avid outdoors man, member of the West Glacier Volunteer Fire Department, and a veteran guide. He is currently part owner and operator of the Glacier River School and Great Northern Resort in West Glacier Montana. He has been our primary Swift-water Rescue and River Crossing instructor for almost four years and tailors all of his training to meet the needs of our clients.
Carl's river experience is second-to-none. He is a Rescue 3 International – Independent Instructor, American Canoe Association – Raft Guide Instructor, Advanced Swift-water Rescue Technician, Wilderness First Responder, PSIA Nordic Instructor, and Technical Rope Rescue Technician. Carl earned a B.S. in Recreation Management and Nature-Based Tourism from the University of Montana during which time he spent summers guiding on the Middle Fork of the Flathead. Carl then served as Recreation Manager for the "Paws up" 5-star Resort where he developed a broad-scale recreation department and designed a wide range of outdoor programs for resort guides. He also implemented a guide-training curriculum for each guest activity, from rafting to mountain biking to snowmobiling.
If he is not out exploring the planet, floating a river, or working at his resort, Carl can be found with his wife Kelsey and their dogs outside the spectacular Glacier National Park.
Certifications
Here is a list of my current certifications.
Rescue 3 International Instructor: Water
Technical Rope Rescue Technician
Swift-water Rescue Technician: Advanced
Wilderness First Responder
PSIA Nordic Instructor: Level I
Additionally, he is the head instructor of The Guide School in West Glacier, Montana and will soon be certified by the American Canoe Association, as an instructor. He will also be joining the North Valley Search and Rescue team.
Back to